EC Pen by Oakton

This waterproof microprocessor EC Testers offer push-button calibration and ±1% accuracy in a rugged waterproof housing. Never worry about losing your tester in a pond or tank; these testers even float! It can be used in liquid or the probe can be inserted directly into a moist soil sample after the sample has been extracted from the ground.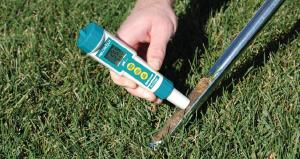 Waterproof Microprocessor EC Testers by Oakton
Feature push-button calibration and high ±1% full scale accuracy!
Waterproof, dustproof housing that floats is certifiable to IP67 standards
Replaceable sensor lets you reuse same meter body, saving you money
Hold function, Auto-Off
Automatic Temperature Compensation
Valox® housing and stainless steel electrodes offer good chemical compatibility. Replaceable sensors let you reuse meter body without losing waterproof protection.
Specifications:

Measures TDS or Conductivity
Automatic Temperature Compensation
TDSTestr High: 0 to 10.00 ppt
Electrode is Replaceable
ECTestr High:0 to 19.90 mS
Operating Temperature 0 to 50°C (32 to 122°F)
TDSTestr High: 0.10 ppt
Power Four 1.5 V batteries
ECTestr High:0.10 mS
Battery life 140 hours continous use
Accuracy ±1% full-scale
Dimensions 6.5" x 1.5" dia (16.5 cm x 3.8 cm dia)
Calibration One point push button
Shipping weight 4.5 oz (125 g)
Waterproof/Dustproof (IP67) Yes
ECPEN-OAK-N - EC Pen by Oakton
Click here to see this item in the on-line catalog
Click here to order this product.
Additional Accessories:
Turf-Tec International
1471 Capital Circle NW, Suite # 13
Tallahassee, FL. 32303
Order Line (800) 258-7477
Phone (850) 580-4026
Fax (850) 580-4027
Home / Search Site / Catalog / Online Ordering / Map of site / Newsletter / On line consult / Contact us
History / Web Designs / Request Catalog / Search Engines
*Copyright 2009