Turf-Tec Wireless Rain Gauge 1/100th inch
with 9-day Memory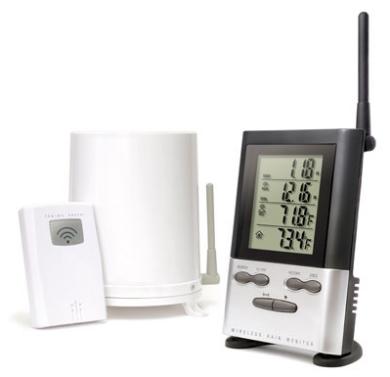 Our rain gauge just went wireless!
The Turf-Tec Wireless Rain Gauge is wireless and includes a 9-day memory function plus an indoor/outdoor temperature.
Now you can monitor rainfall from your office or maintenance building without the need to run wires. Simply place the self emptying rainfall collector within 300 feet of the receiving unit and you are ready to go.
Do not rely on airport weather collection stations to determine how much rainfall has fallen on your property.
Use your own data and you will know exactly how much rainfall has occurred on your managed area. The unit is also 100% frost proof.
The Turf-Tec Wireless Rain collector is produced of durable and weatherproof plastic, resisting extreme frost and heat temperatures as well as the sun's UV radiation. 100% frost proof.
Uses for the Turf-Tec Wireless Rain Gauge

Golf Courses

Sports Fields

Home Lawns

Municipalities

Parks and playgrounds

Estates and gardens

Office complexes

Agriculture and farming

Aquaculture

Determine when to irrigate based upon rainfall

Determine when to fertilize based upon rainfall

Specifications

Automatic self-emptying rain cup

Measures rainfall and then automatically dumps collected rainfall

Wireless transmission range up to 300-feet for rain gauge and 100 feet for thermometer

Displays daily, 9 day historical, and total rainfall records

Rainfall amounts are shown as inches or millimeters

Displays indoor and outdoor temperature

High daily rainfall alarm

Records rainfall for every 4/100th of an inch of rain (every 1 mm)

Batteries: 2-AA (main) / 2-AAA (sensor)

Dimensions: 3.5L x 1D x 5.6H (in.)
ROM3-W - Rain Gauge with Outdoor Thermometer and 9-day Memory
Click here to see this item in the on-line catalog.
Click here to order this product.
---
Turf-Tec International
1471 Capital Circle NW, Suite # 13
Tallahassee, FL. 32303
Order Line (800) 258-7477
Phone (850) 580-4026
Fax (850) 580-4027
---
Home / Search Site / Catalog / Online Ordering / Map of site / Newsletter / On line consult / Contact us
History / Web Designs / Request Catalog / Search Engines
*Copyright 2008