Turf-Tec Ball Mark Repair Tool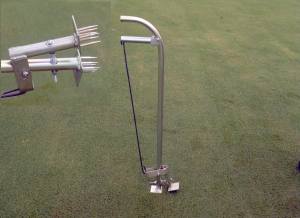 This Ball Mark Repair Tool is the best in the industry for repairing ball marks on Golf Greens.

Simply insert the stainless steel spikes into the golf green, squeeze the trigger and the soil is pressed together, lifting up the depression made by the golf ball.
This is a quick and necessary tool that every mower operator should carry. Never before has there been a quicker way to eliminate ball marks and restores greens to their original condition. Some advantages of the Turf-Tec Ball Mark Repair Tool is the fact that you can put the 1 1/2 inch deep stainless steel spikes into the golf green as deep or as shallow as you would like. After the spikes are inserted to the desired depth, you can also and lift it up as high or as low as you like.

Most ball mark tools have a "fixed" setting that only allows one action. As we know, all ball marks have different depths and severity. Also cool season turfgrasses in the summer do not need overly aggressive action, this tool allows you to be as aggressive or as gentle as you would like, all determined by the operator.
Operation
Simply insert the ball mark repair tool's stainless steel spikes into the soil on both sides of the ball mark to desired depth.

Deeper ball marks may require full insertion of 1 1/2" deep spikes whereas shallower ball marks may require only a slight insertion of the spikes.

Gently squeeze the trigger to close the jaws slightly and gently lift the tool upward. This will lift the ball mark to green level.

Change position of the spikes to a different angle above the ball mark and repeat the above process.

After you are satisfied that the ball mark has been raised sufficiently, gently tamp the ball mark with your foot or other suitable flat object to be sure that the green is level.

The tool can be inserted deeply or shallow into the green so the tool works well on all types of grass. There is on better tool for ball mark repair available.
BMRT1-M - Turf-Tec Ball Mark Repair Tool
Click here to see this item in the on-line catalog.
Click here to order this product.
---
Turf-Tec International
1471 Capital Circle NW, Suite # 13
Tallahassee, FL. 32303
Order Line (800) 258-7477
Phone (850) 580-4026
Fax (850) 580-4027
Home / Search Site / Catalog / Online Ordering / Map of site / Newsletter / On line consult / Contact us
History / Web Designs / Request Catalog / Search Engines
*Copyright 2011