12 Inch Deep Mascaro Profile Sampler
| | | |
| --- | --- | --- |
| 12 Inch Deep Mascaro Profile Sampler | 12 Inch Deep Mascaro Profile Sampler opened easily with specially designed flip open hinged top | Entire Soil Profile can be re-inserted into the same hole after inspection so no damage is left to the turf |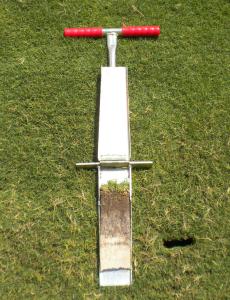 From the inventor of the original Soil Profile Sampler comes the new and improved 12 Inch Deep Mascaro Profile Sampler
The sample is extracted and then the cutter blade is simply opened with the aid of a specially designed hinge. No bolts or screws to fumble with when opening sampler. Sample can be viewed instantly and it has the quality you have come to expect from Turf-Tec International.
This well constructed device will take an undisturbed soil profile 12 inches deep, 3 inches wide and 1/2 inch thick. Sample can be photographed and easily replaced into the same hole. The 12 Inch Deep Mascaro Profile Sampler is a Soil Profile Sampler that takes a twelve inch deep undisturbed soil sample. It is unmatched for quality and ease of use. No bolts to fumble with or loose, just take the soil sample and flip it open!
Sample can be dried and mounted for further reference. Use it for teaching to clearly show the root zone, profile, thatch and subsoil. The 12 Inch Deep Mascaro Profile Sampler is long enough to even check perched water table layer in USGA Greens. Overall length is 30.5 inches.
SPS3-S - 12 Inch Deep Mascaro Profile Sampler - Patent Pending
Click here to see this item in the catalog.
Click here to order this product.
---
See our other models of Soil Profile Samplers:
Soil Profile Sampler - The original Soil Profile Sampler with the handle that unscrews
Mascaro Profile Sampler 7" deep - Easy open hinge
Heavy Duty Mascaro Profile Sampler - Heavy duty cutter blade and long handle
12 inch deep Mascaro Profile Sampler - Takes a 12 inch deep profile
---
Turf-Tec International
1471 Capital Circle NW, Suite # 13
Tallahassee, FL. 32303
Order Line (800) 258-7477
Phone (850) 580-4026
Fax (850) 580-4027
---
Home / Search Site / Catalog / Online Ordering / Map of site / Newsletter / On line consult / Contact us
History / Web Designs / Request Catalog / Search Engines
*Copyright 2007