Turf-Tec International
How To Analyze Common Water Problems on Athletic Fields
---
To analyze common water problems on sports fields need to have first examined the soil profile as described in the previous section on soil analysis.
Step 1:
Analyzing Wet Areas and Hydrophobic Soils
Here are some common water problems that occur on most sports fields and ways for you to investigate them yourself.

WET AREAS can occur for a variety of reasons. They can be caused by poor infiltration, sprinkler problems like poor pressure or wrong nozzle types. They can also be caused by many other factors. To be sure wet soils are present and at what depth they occur use a Turf-Tec Moisture Sensor. If readings are over 75% in the soil profile, there is not enough oxygen in the root zone for grass roots to breathe.
HYDROPHOBIC SOILS are dry spots that actually repel water. They can occur for many reasons. To confirm if hydrophobic soils exist use a Turf-Tec Moisture Sensor. First examine the soil profile with a soil profile sampler to determine the depth of grass roots. Next adjust the Moisture Sensor to the root depth level and insert it into the soil. If readings are below 25%, there is not enough water in the soil for the grass roots to use. Dry spots can be mapped and then a manual Aeriforke can be used to open the soil up and then wetting agents can be applied to correct this problem.
Monitoring soil moisture insures consistency in playing conditions from one athletic field to another.
In addition, the Moisture Sensor should always be used on athletic fields before irrigation is turned on. Only water when the soil in the grass rootzone reaches 25%. On athletic fields, compaction often causes soils to become void of air space, when this occurs, the amount of water in soil is less then it would be if there were more air space. This, in turns leads to soils being wet quickly and also dry out quickly. In these situations, Penetrometer readings are usually above 65%. When this occurs, constant monitoring with the Moisture Sensor is the best measure to prevent loss of turf.
Step 2:
Analyzing Wet And Dry Areas
WET AREAS AND DRY AREAS typically occur when sprinklers are out of calibration. After testing with the Moisture Sensor, if you notice differences in soil moisture from one area to the next, you probably should perform a sprinkler uniformity test.

Testing sprinkler precipitation and uniformity can be done easily by using Turf-Tec Precipitation and Uniformity Gauges. This set of 20 gauges is spaced evenly between two irrigation heads and the sprinklers are turned on for 15 minutes. Inspect each gauge to determine how much water is applied and also how uniform the coverage is between the heads. Sprinkler uniformity is the key to having healthy athletic fields as it will eliminate wet spots and dry spots from developing and insure optimum turfgrass quality and health. Too often when nozzles are changes and irrigation heads and pipes are repaired or replaced, uniformity suffers. Use the Turf-Tec Precipitation and Uniformity Gauges to determine how your irrigation is really being applied and in what quantity.
Turf-Tec Precipitation and Uniformity Gauges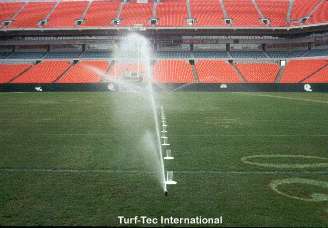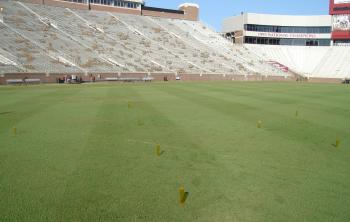 Turf-Tec Precipitation Uniformity Gauges - PUGS2
Click here to see this item in the Turf-Tec Virtual Catalog
Step 3:
Turfgrass Disease and Poor Infiltration
TURFGRASS DISEASE AND POOR INFILTRATION are closely related. "Mold doesn't grow on dry bread" is a quote Tom Mascaro always used to recite about turfgrass disease. If infiltration rates are below eight inches per hour disease is likely. If infiltration falls below six inches per hour, the situation is very critical and immediate action should be taken to prevent the loss of turf.

Infiltration rate is also a good indication of when it's time to aerify. Baseline Infiltrometer readings will give a good indication of your rate of infiltration. When those baseline readings fall 10% or more, then it is time to aerify. In addition, the amount of water that is being applied by the sprinklers, obtained in step two, will allow you to compare the amount of water applied with the amount of water that has infiltrated into the soil to avoid runoff and maximize water intake into the soil.
Infiltration can be taken by two different types of infiltrometers, the Turf-Tec Infiltrometer and the Turf-Tec Infiltration rings.
Poor infiltration also causes anaerobiosis or black layer to develop. Click here to read an excellent article on Infiltration in a past issue of the Turf-Tec Digest.
Step 4:
Analyzing turf water usage
Once moisture sensing and infiltration readings have been established, and irrigation efficiency has been assured, the next step is to coordinate your irrigation system with the actual turfgrass water consumption. This can be accomplished by using an ET Gauge or Evapotranspiration Gauge. This model represents actual amounts of water that have been utilized by the turfgrass plant over the past 24 hour period. ET can be measured and then using a proven formula, the amount of water that the turfgrass has used can be calculated and re-applied by the irrigation system. In addition ET should be compared to rainfall when calculating ET Rates. The Rain-O-Matic allows quick daily rainfall readings in a simple unit.
Click here to go to next page.
Virtual Catalog
Click here to go to the Turf-Tec Virtual Catalog with pictures.
---
Turf-Tec International
1471 Capital Circle NW, Suite # 13
Tallahassee, FL. 32303
Order Line (800) 258-7477
Phone (850) 580-4026
Fax (850) 580-4027
Home / Search Site / Catalog / Online Ordering / Map of site / Newsletter / On line consult / Contact us
History / Web Designs / Request Catalog / Search Engines
*Copyright 2007