SKY-MASTER WIND and WEATHER METER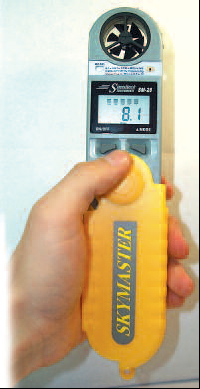 Click here to see all our products relating to artificial turf surface
Monitor environmental conditions in the palm of your hand!
WIND SPEED • RELATIVE HUMIDITY & DEW POINT • ALTITUDE • CURRENT BAROMETRIC PRESSURE • 16-HR PRESSURE GRAPH • SEVERE WEATHER AUDIO ALARM • TEMPERATURE/WIND-CHILL/HEAT INDEX
This easy to use, pocket-size weather station features complete wind speed functions and includes a severe weather audio alarm. The relative humidity, barometer, and altimeter functions can be recalibrated, if required. Skymaster is water resistant, floats, threaded for tripod mounting and comes with a lanyard. One year warranty. It is an excellent way to check wind speed before spraying or irrigating turfgrass areas.
Coaches - Monitor Before Every Outdoor Sports Practice or Game
Since the Sky-Master Wind and Weather Meter also measures the heat index, it will also conform to Sports Turf testing procedures to make sure tournaments, practices, games and all sporting events can be held safely hot days, especially for football practices.
ACCURACY:

Wind speed +/–3%
Temp/Wind-chill +/– 2°F/–1°C
Relative Humidity +/– 3%
Dew Point +/– 3°F (2°C)
Heat Index +/– 4°F (3°C)
Barometric Pressure
+/– 3 hPa (millibars)

RESPONSE TIMES:

Wind speed: Current:
2 sec. avg.; Average:
5 sec. avg.; Max 2 sec. gust
Temp/Wind-chill/Humidity/
Dew Point: 1 min.
Barometer: 15 min sampling updated each minute

RANGES:

Wind speed: .4 – 89 MPH; Temp: +5° to +122° F/–15° to +50°C
Wind-chill: –22° to +158° F/–30° to +70°C
Dew Point: –31.2° to +155.8°F/–35.1° to +68.8°C
Heat Index: +69.8° to +155.8°F/+20.9° to +105°C
Humidity: 0 – 99%; Barometer: 400 –1100 hPa or 11.8 – 32.5 inHg
Altitude: –650 to 9000 meters

OPTIONAL UNITS:

Wind: Knots, Beaufort, MPH, KPH, Ft/Min, M/Sec, Temp: °F or °C; Barometer: inHg or hPa (millibars)

OPERATING TEMP: +5° to +122°F/–15° to +50°C
STORAGE TEMP: –40° to +185°F/–40° to +85°C
POWER: 400-Hr replaceable Lithium battery/CR2032 (included)
MEASURES: 5.875) x 2.1) x .85)/127 x 53 x 21.5mm (closed)
WEIGHS: 4 oz/113.4 grams
WIND1 - Sky-Master Wind and Weather meter
Click here to see this item in the on-line catalog.
Click here to order this product.
Turf-Tec International
1471 Capital Circle NW, Suite # 13
Tallahassee, FL. 32303
Order Line (800) 258-7477
Phone (850) 580-4026
Fax (850) 580-4027
Home / Search Site / Catalog / Online Ordering / Map of site / Newsletter / Contact us
History / Web Designs / Request Catalog / Search Engines
*Copyright 2012