Analyzing Your Golf Course
---
The following are common problems that golf course superintendents face.
Point to the area with which you are experiencing problems with for in depth information. Use the back command to return to the previous menu.
Become your own turfgrass agronomist with your own diagnostic tools!
Point to your problem area and click.
Soil problems

- Layers - Heavy thatch or mat layers - Compaction - Shallow roots

Water problems

- Wet areas - Hydrophobic spots - Disease - Poor infiltration

Grass problems

- Thin turf - Disease or leaf lesions - Thin turf in wear areas

Nutritional problems

- Yellow or off colored turf - Disease - Thin turf that responds poorly to fertilizer - Turf that doesn't grow properly.

Management problems

- Ball Marks - Standing water - Irrigation problems - Dead areas - Tee Markers

Golf Turf Catalog Now Available in PDF Format Online

Free Golf Diagnostic Tools Catalog - You can request a free catalog by clicking here: Turf-Tec International.

Turf-Tec is a Proud Member of :

---
Virtual Catalog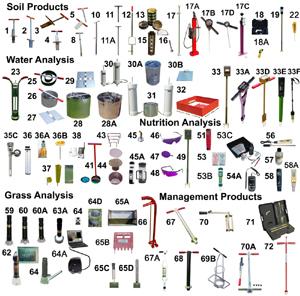 Click here to go to the Turf-Tec Virtual Catalog with pictures.
---
Contact us for free catalog or further information.
You can request a catalog for free by clicking here: Turf-Tec International.
---

New! - Turf-Tec Links Page to all Golf Course Superintendents Association of America (GCSAA) Chapters!!! New!

---
Turf-Tec International
1471 Capital Circle NW, Suite # 13
Tallahassee, FL. 32303
Order Line (800) 258-7477
Phone (850) 580-4026
Fax (850) 580-4027
Home / Search Site / Catalog / Online Ordering / Map of site / Newsletter / On line consult / Contact us
History / Web Designs / Request Catalog / Search Engines
*Copyright 2013