Turf-Tec International
Common Lawn Management Problems
---
Thin Turf - Excessive Weeds - Dead Areas
Here are some common lawn management problems and ways for you to investigate them yourself.

THIN TURF - Thin turf can be a result of many different problems, be sure to see grass and nutrition categories. If the soil, water, grass and nutrition are all in good ranges then the problem of thin turf is usually management related.

Inspect the turf closely and look for torn leaf blades after mowing. This will cause turf to be thin and shows that your mower blades need sharpening. Also be sure you only cut off 1/3 of the grass leaf blade at a time or less.

DEAD AREAS - If dead areas appear and all the above categories are in good shape, management is usually to blame. That means the problem is man-made. Try an on-line consultation.
---
Aeri-Forke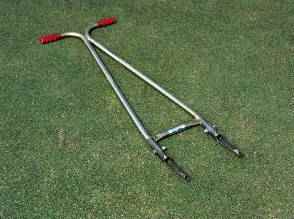 The Aeri-Forke aerifies the soil with ease. It extracts 1/2 inch soil plugs to reduce compaction and allow air, water and fertilizer into the root zone. It is also excellent for use in preparing seed beds for new grass or sod.
Turf-Tec Aeri-Forke - AF1-M
Click here to see this item in the Turf-Tec Virtual Catalog
---
Thin or dead turf.
After the problem that caused the thin turf has been addressed by looking over the previous four sections of Soil, Grass, Water, Nutrition now is time to replace the dead or damaged grass. Thin or dead turf can be plugged with good grass from healthy areas of the lawn. These new plugs will spread out and eventually cover the dead area with new, healthy grass.
The Best tool for transplantation grass from a healthy area to a thin or dead area is the Tubular Turf Plugger.
Turf-Tec Tubular Turf Plugger
Click here to see this item in the Turf-Tec Virtual Catalog
---
Virtual Catalog
Click here to go to the
Turf-Tec Virtual Catalog with pictures.
---
Turf-Tec International
1471 Capital Circle NW, Suite # 13
Tallahassee, FL. 32303
Order Line (800) 258-7477
Phone (850) 580-4026
Fax (850) 580-4027
Home / Search Site / Catalog / Online Ordering / Map of site / Newsletter / On line consult / Contact us
History / Web Designs / Request Catalog / Search Engines
*Copyright 2016